1.Chose the products that you want to buy, and put them into the "Add to Cart"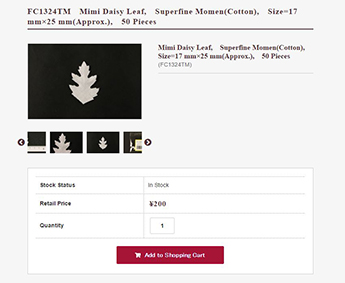 If you decided what you want to buy, please number how many products do you want. Then, please click the "Add to Cart" button which located the bottom of the products detail screen.
The products will be added to your cart.
2.Check the inside of your cart
After choosing the quantity of the products and click the "Add to Cart" button, the products go to your cart and you can check the inside of the cart.
In case of the products are already in the cart, you can check the cart by clicking "View Cart" button. The page moves to purchase procedure by clicking "Next" button. If you want to continue your shopping, click the "Continue Shopping" button.
3.Purchase procedure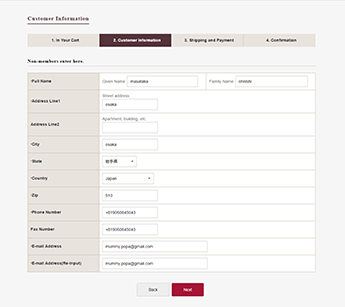 Please enter the receiver's information. 
4.Designate a receiver's address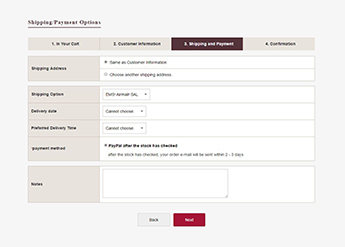 If the receiver's address is different from the registered information, please mark to the "designate a different receiver's address" and enter the new address.
5.Check the entered information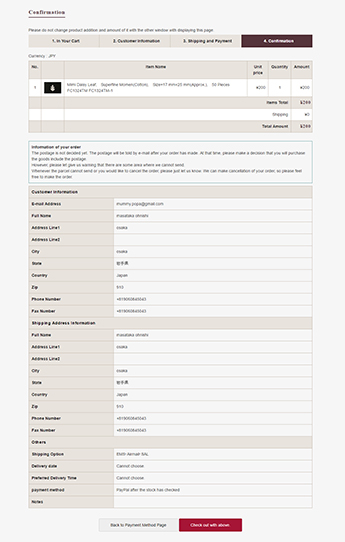 Please make sure the contents of purchase, amount, and personal information are right, and click "Check out with above" button.
6.Purchase procedure completion
Purchase procedure completion screen conclude your shopping.
*Please pay attention that the process of your shopping has not completed, until the purchase procedure completion screen shows up.
7.Flow of after shopping
After your order has made, we check the stock. You will let know the postage by e-mail include the contents of your order.
We will give some choices of the way of delivery which the postages are different; EMS, Air mail SAL, so please chose one way from the choices.
About your parcel shipping, for custom process of your parcel, a document (invoice) which specific your ordered items' prices are written, will be attached to your parcel when you chose the way of delivery for EMS.
(Some countries do not deal with EMS delivery. Please find that when you receive the postage e-mail from us.)
If you agree with the contents of your order, please let us know your PayPal account and the way of delivery.
When your PayPal account is confirmed, your invoice will be sent.
Then, when your payment has been checked, your goods will be sent.